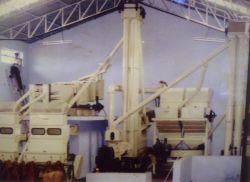 Welcome to the vibrant world of Vmac Industries. VMAC Industries is the leading manufacturer of a wide range of high quality hulling, cleaning, grading & roasting machinery for the coffee industry. Since inception, the company has made rapid strides in the business owing to its innovative products. We are the leading manufacturer of Bucket Elevator as well as Coffee Roasting and Wet Coffee Processing Machines in India Backed by a team of experienced persons, the company strives to touch new milestones in terms of quality and customer satisfaction. We manufacture best quality coffee processing machines as per new technological adaptation and specific requirement. We ensure quality and accuracy of our product from incoming raw materials up to finished product. Our in house designing and quality control facility makes product more precision and customer friendly. Our range of products includes:
Coffee Processing Machines
Bucket Elevator
Coffee Roaster Machine
Gravity Separators
Coffee Pulper Machine
De-Stoners
Coffee huller and many more.
We take utmost care of our customers for long term business relationship. We design and manufacture machines as per the customer specifications for different uses. Our coffee processing products are best known for greater productivity and lower prices. We believe in timely delivery of products and post business services.
Read more...